Breachacha Embrace Program 2023
'Taskscape' is a term coined by Tim Ingold (British anthropologist, Emeritus Professor University of Aberdeen, Scotland). He proposes that we speak of 'taskscape' instead of 'landscape', in that it emphasises the necessity, if we are to save the world, of human beings collaborating with the earth and not the exploiting in the way that has led to the crisis we face. 'Landscape', says Ingold, is either tied to a distinctly cultural perspective (as it is in the visual arts), or to a natural perspective (landscape as an ecological background against which—not 'with' which—we organize our lives). The term 'taskscape' does not aim to obscure the ecological and cultural side of 'landscape' but adds another layer of meaning.
'Taskscape Breachacha' can then be read as 'a beautiful field to collaborate with'. The subtitle 'rewilding the literary field' points to the importance of literature with its stories and narratives in giving insight and in helping to inspire and mobilize people to 'work with a field of wildflowers, in short 'rewilding'. And the act of thought and writing can be regarded as an essential part of this 'taskscape', informed by the view of philosopher Martha Nussbaum that more literature inciting people to reading can make a crucial contribution to creating a better world. Our 'literary project' offers a platform to authors of visual or textual work with eco-novels, essays, theatre, film scripts. 'Taskscape Breachacha' can be seen as a literary 'rewilding' project broadening the ecological discourse in the face of climate change.
Summer Residencies: TASKSCAPE BREACHACHA
Rewilding the Literary Field
– DAVID PELEMAN (B, 1979): engineer-architect and urban planner, author
David Peleman is writing a book with several essays on the (un)ecological history of Belgium. The starting point is formed by a series of images—photos, drawings, paintings—images that ask for a story. And his story hints at how we can and must interact differently with the environment, no longer seeing it as a mere projection of our own dreams, but as a partner with whom we need to actively work in shared relation. Today, we need stories to address 'the ecological issue'—stories that reach out to various aspects of everyday life to make sure it doesn't remain closed in a debate among specialists or a polemic between left and right, north and south, between 'believers' and 'non-believers' of global warming.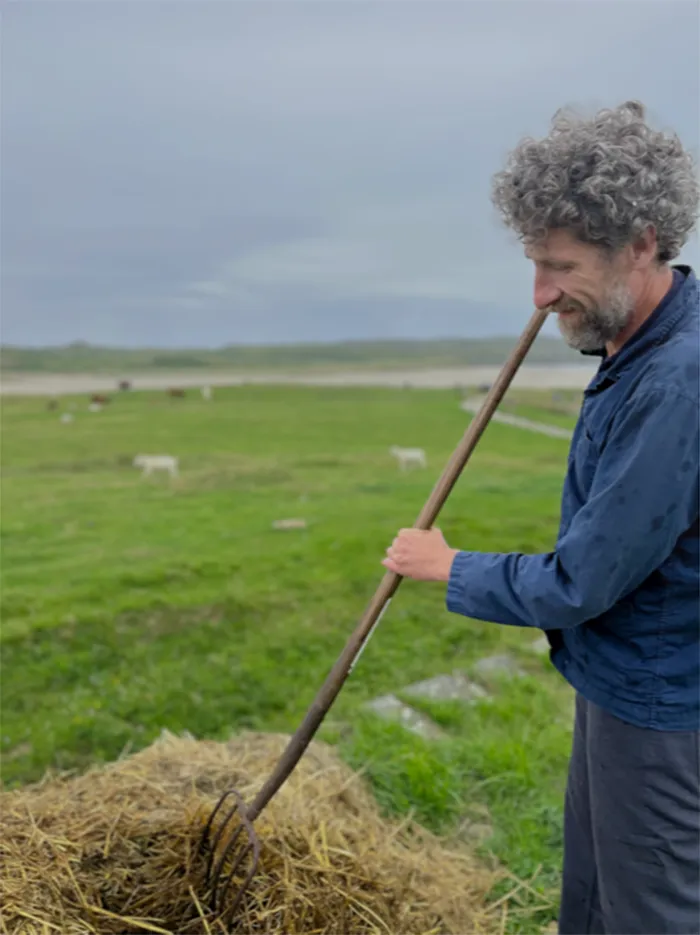 David Peleman works at Breachacha Castle on a series of essays looking at the future over the shoulders of historical figures. As he writes, "ecology is quite often presented as an inquiry about how to adapt our lives today to be better off tomorrow. But ecology is not merely about realising the bridge from an apocalyptic 'now' to a redemptive 'tomorrow.' Ecology requires historical depth and shouldn't start from 'now' but from the valuable practices that shaped the past—a past that is not necessarily behind us while the future appears before us. As Tim Ingold suggests, past and future are in front of us, and working sustainably on the present is like following the path of some ancestor on the way to a future. This requires a different method of transferring knowledge. It calls not for guidelines but for stories, like historical threads to be pulled through the needle hole of the 'now' to stitch together another future. My essays are exercises to launch some of those stories that connect past and present. The figures featured in the essays are not ecologists in the strict sense of the word — because they lived in an era when the term ecology did not yet exist (late 19th and early 20th centuries) — but they show a pioneering sensitivity to the world that surrounds them. A sensitivity to plants, animals and people that cannot always be clearly categorised and is therefore particularly instructive for our time. There is a painter, a writer, a translator, a shepherd, a biologist, an industrialist. The lesson for an ecological future arises not from a reflection on what was the essence of their work, but by overlaying their different stories. Closely related yet different from each other, these stories give reality a layered 'thickness' that allows us to look at the world and climate issues in a different and long-lasting way."
In 2008, while a Fulbright Senior Environmental Leadership Fellow in India, Donna Glee Williams was inspired by the heroic efforts of small farmers around Andhra Pradesh to free themselves and their communities from the devastation caused by pesticide use. She spoke with many people who were attempting to bring back strategies that relied on the natural checks and balances of rewilded agriculture. Their story continued to grow in Williams' soul and came out in the form of her novel
The Night Field
, scheduled for simultaneous release in the US and UK in July 2023. This book describes, in a world that is not this world, the ingredients of environmental success as analysed by her mentor and friend Gerry Marten, drawing on 60 years of
eco-tipping-point stories
from around the world—stories of ecosystems that were once rich, diverse and stable, but which had fallen into disrepair, and then, crucially, were tipped back into restoration. In the hope to bring these successful concepts of environmental tipping points to a wider audience in her stories, she wants to broaden the conversation in a sense that textbooks or research papers never could. Currently, her interest is entirely focused on alternative, ecologically responsible 'agriculture': the 'rewilding' of agriculture. "I am so incredibly grateful for the opportunity the Embrace Space Program offers to do just this: walk without direction, and listen, and receive my next mission from Earth," writes Donna Glee Williams. A brief video with the announcement of her book…
An eco-fable engaging with monoculture, pesticide use, and oppressive agriculture in a world. As Donna Glee Williams writes: "She may not like the idea, but Pyn-Poi is destined to be the matriarch of her kin and clan: a strong guide, a healer, a mother, and a mother to all – though her heart calls her more towards the trees of her forest home: learning to persuade their roots and branches into the walkways, bridges, and strong houses of her people, even as she nurtures and cares for these ancient giants. Then something goes wrong in the Real, her beloved land: when the rains come, instead of nourishment, they bring a killing stench that poisons people and plants alike – even the forever trees which should never die. And every year, it's getting worse. Pyn-Poi knows one thing: she is her people's tree-woman, so if the trees are failing, it's her duty to find out why. Their only chance is for her to climb the unclimbable Wall to the land of the Ancestors and confront the source of the murderous Stink. Pyn-Poi expects a whole new world up there, but what she finds is stranger and more dangerous than she could have imagined. The trees have given Pyn-Poi a job, but is she strong enough— brave enough—unstoppable enough—to save her trees, her people, and the Real itself?"
– SASHA HAILS (UK, 1968): writer for stage, film, TV and radio
After a first stay at Breachacha Castle, Alice Albinia returns. She is joined by playwright Sasha Hails to adapt her book Cwen into a play for The Arcola Theater in London. Through collaborations like this, Embrace Space contributes to the dissemination of literature and knowledge to wider audiences. In 2022, a first step in this direction was taken with the publication of texts from Albinia's new book The Brittanias in the winter issue of the Dutch art magazine See All This #28 that appeared on December 1, 2022.
Sasha Hails has a notable career as a writer for film, TV, theater and radio. She has extensive experience in adapting novels and historiography to stage and film and is currently lead writer and co-creator of season four of Malory Towers, the hit BBC/King Bert series of Enid Blyton's classic. This is the latest in a long list of significant writing credits and is to be followed by a number of projects currently in development. Her work has been widely recognised and has received many awards.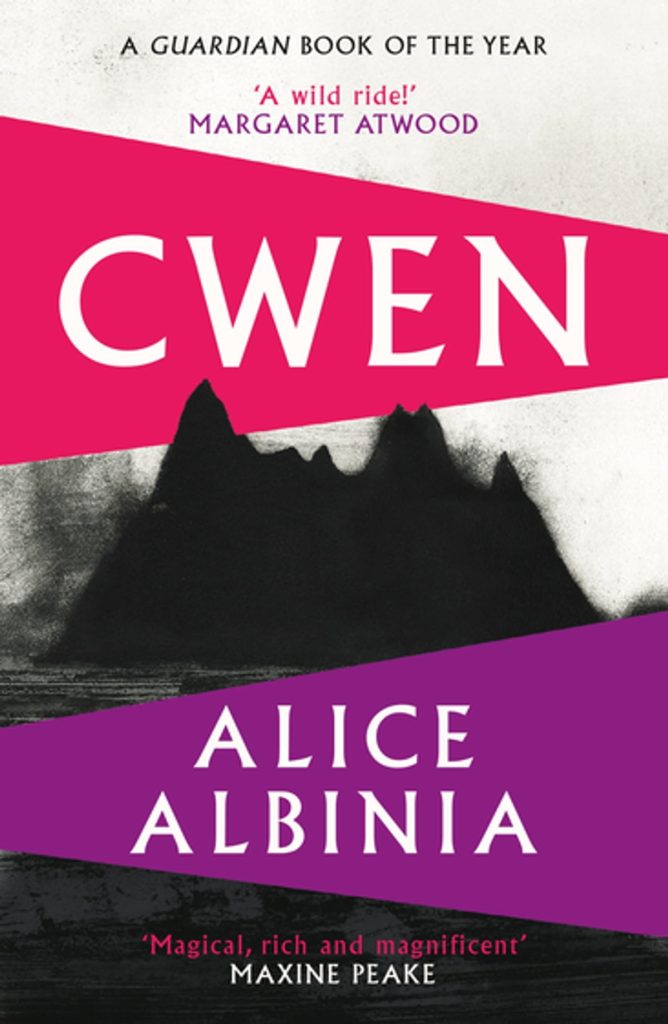 – CLARISSE DERRUINE (B, 1995): engineer-architect, novelist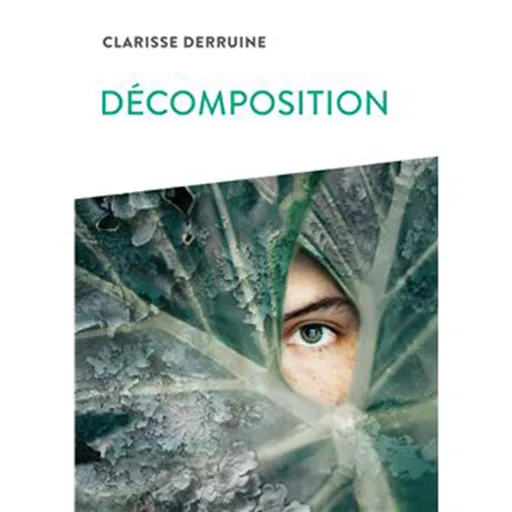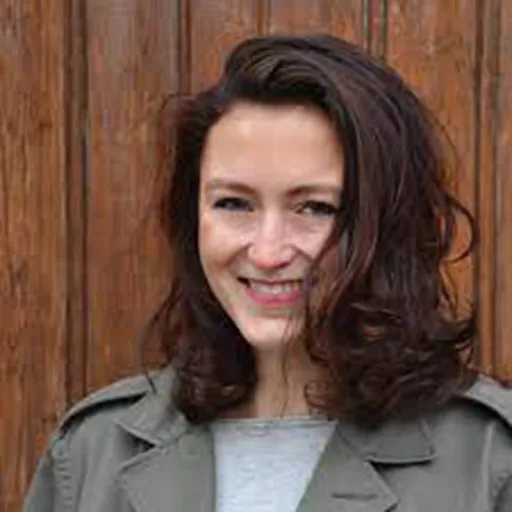 Clarisse Derruine is the young literature laureate of the Fintro Prize 2023. In 2020-2021, she was also laureate of the Foundation Laure Nobels prize with her novel Décomposition. For her, the structure of a novel resembles the design of a building.
Décomposition tells the story of a society in which mushrooms and other plants predominate. Everywhere in the houses and deep in their foundations, nature has become so entrenched that the inhabitants are forced to leave certain places, overwhelmed by this increasingly invasive vegetation. In this universe, where nature becomes a threat to other living creatures (and not the other way around), the protagonists must adapt, reinvent themselves and survive despite everything.
"There is probably a connection between architecture and writing a book," says Clarisse Derruine. "It is mainly a matter of representations. When we create architecture, we create living spaces. So we necessarily think about the stories that will play out in these places that we imagine. We think about making everyone feel good, it's the same with writing. I wanted to create a familiar universe with a few parameters changed. There, exceptional events take place, forcing the protagonists to react, adapt, rebuild and survive. Personally, I didn't want to oppose man and nature. Décomposition is rather the story of an evolution that is seen as a chaos we must learn to live with."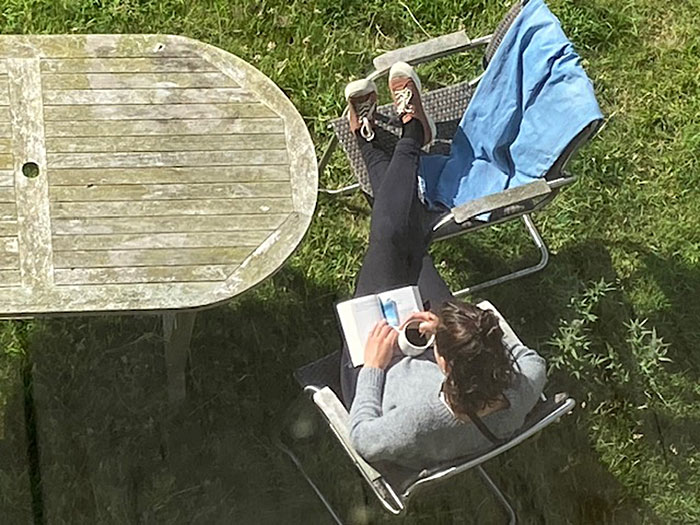 "The time spent on the Isle of Coll is a bubble, a breath of fresh air, a parenthesis away from it all… but where the essentials are brought together to find calm and inspiration. Outside, the ocean in front of you, walking as a driving force, landscapes and wind to let your creativity flow. Inside, discussions and exchanges with the other residents of the castle, to reignite and stimulate your reflections!"
–
NATALIE TAYLOR
(UK, 1971): Keepers of the Soil series, 2021- ongoing
Call it soil or earth, the world beneath our feet is a vital natural substance, teaming with life. Natalie Taylor is bringing fresh insight to its true worth and complexities. In celebration of the Living Soil, she was also an artist-in-residency at the Royal Botanic Garden Edinburgh (RBGE). As Taylor states: "What I have found in soils' hidden depths is a treasure trove of beauty, energy and diversity and I truly feel compelled to connect people to this complex and fascinating habitat. Since starting to understand the importance of the role played by the complex interrelationships between soil organisms and the plants we eat every day, I have gained immense respect for the way our more sustainable crops are being produced. There is a strong argument for supporting a just transition away from our conventional farming system off chemical fertilisers and pesticides, so doing the soil, and ourselves, a massive service. Sharing information and encouraging better understanding has never been more important as nine and a half mouthfuls out of ten rely on soil one way or another. Most of us take soil for granted. Yet, increasingly, how we treat it will shape our health, our food supplies and the ability to filter – perhaps even access – water in some regions. Not only is soil one of the most fascinating habitats for life on Earth, it holds one of the keys to reversing our increasing airborne CO2. It is crucial we open up this conversation whilst changing our relationship with food production.'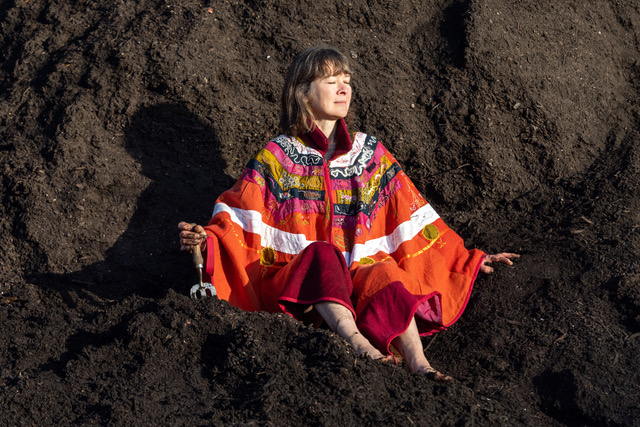 Keepers of the Soil, Portrait of the artist, 2022.
Photo by Roberto Ricciuti.
Location: Royal Botanic Garden Edinburgh, Nursery composting system
Exploring the human relationship with soil, meeting some of the people who care for it, and considering the food production systems reliant upon it, her project beautifully illustrates the relevance of soil to all sections of our lives and demonstrates its qualities as an art medium. Collaboration is a key element of her work. Natalie Taylor applies multiple layers of knowledge around its unseen complexities, bringing us the vitality of soil not only through paintings, photographs and workshops, but also DNA analysis, poetic plates and a well-travelled cape—a soil cape which Taylor brought with her to Breachacha on Coll. Here she continued her Keepers of the Soil series with local people of the island community. Respected as an artist working across many different media to communicate the enormity of the ecological and climate crisis and provoke soul searching and action, she is both deeply passionate to the cause and sensitive to differing cultural aspects of art and community outreach.
With thanks to Natalie Taylor, Catherine de Zegher, Emma Nicolson,
and Charlie Self.
Photos are available for limited edition A3 print on art quality paper on request directly from the artist artforalluk@gmail.com
Although many books are created in the intersecting 'domains' of ecology, architecture, urban planning, and agriculture, the residents believe that the most 'fruitful' way to look at these related domains is from a position on the margins from which there may be a perspective that allows a greater freedom of understanding. By writing literature and stories from outside 'a discipline', exciting, refreshing and enriching insights come to life, which could not possibly arise even by turning the archives of one's own knowledge domain inside out. Getting closer to nature, as Bruno Latour says, can only be done by accepting that man is not opposed to nature, but part of it. That acceptance also requires or presupposes the presence of other 'voices' in the conversation: human voices—but also 'voices' of living creatures, indeed of all living entities, animals and plants, which Latour described as a parlement des choses. The location of Breachacha Embrace in the middle of a large nature reserve, home to rare bird species (including sea eagles) and marine animals (otters, seals, basking sharks, orca's, whales, etc…) will certainly contribute a singular context to the writing of eco-novels and screenplays.
Although global warming is a problem with universal effect, the response to it and the thinking of how to deal with it is still shaped by culture. We do not separate culture and nature in this. Although there is only one planet earth, and one process of planetary warming, it takes many stories to translate global warming from scientific observation to an understanding of its profound and complex effects in everyday life. Stories that, so to speak, 'have their feet in the earth' in the place and in the communities where they need to be heard. We feel that this cultural aspect forms the core of the residency at Embrace Space, because here people come together from different corners of the world, but also from different domains of the cultural field. Moreover, the natural environment here is overwhelming both in its beauty and in the raging fury of its storms, in the rich diversity of its vegetation and in the fascinating prolixity of its sea life with its algae and creatures…