Breachacha Embrace Program 2022
At the 2022 residencies of Breachacha Embrace we wish to explore alternative models of society, based on feminine principles of participation, compassion, resilience and relation. In togetherness with artists, ecologists, and writers, we research, write, and create in the quietude of the natural environment of a remote island. Embrace: Space provides a place for respite and recovery from stress caused by systemic professional pressures in a rapidly changing world, and an opportunity for new insights through immersion in nature and in conversation among peers. All focus is on developing the project as well as engaging with the other residents in theoretical debate through discussions and presentations. An island allows for such an opportunity of exploration of the small and the sustainable.
For centuries women have withdrawn to islands to create a counter current to patriarchal power and control, be it literally off the coast of Europe to escape Roman soldiers, Christian monks, Viking warriors…, or metaphorically by inhabiting a walled Beguinage or Stift. The island-led female independence and wisdom have always been overlooked, even hidden, but empower us to rethink these impulses in the contemporary. This is history but also a story of the present-day. And because of it our aim is to research the possibility of using the island's gifts of nature to start up a manufactory of caring space-time with attention to the wildflowers, seaweed, and sheep's wool. These steps are in significant part inspired and realized in response to the singular magic of this Hebridean island.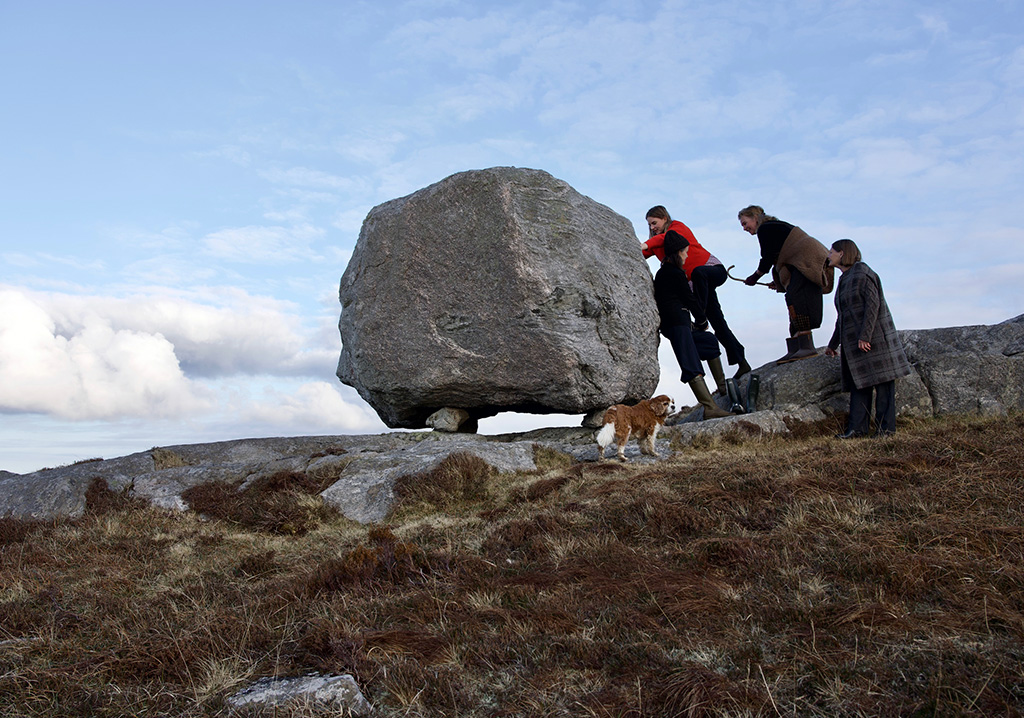 Winter Residencies 2022: QUINTA ESSENTIA
1st post-pandemic edition
During her residency at Breachacha Castle Alice Albinia will be writing her fourth book, The Britannias, a cultural history of Britain through its islands which is also the culmination of seven years of literary and cultural exegesis of Britain's lost feminist histories and stories. The Britannias will be published by Penguin (Allen Lane) in January 2023 and is the non-fiction twin of her novel Cwen forming a choric palimpsest of female poetry, stories and power.
Her book Cwen got shortlisted for:
https://www.orwellfoundation.com/the-orwell-prizes/2022-prizes/finalists/
Alice Albinia's film Zenae, inspired by her research and made with two artist friends, had its premiere at Tate St Ives in September 2022.
https://www.tate.org.uk/whats-on/tate-st-ives/ad-minoliti/late-at-tate
– artist ULRIKA SPARRE (Sweden):
The Queen's Stone [Ear to the Ground Project]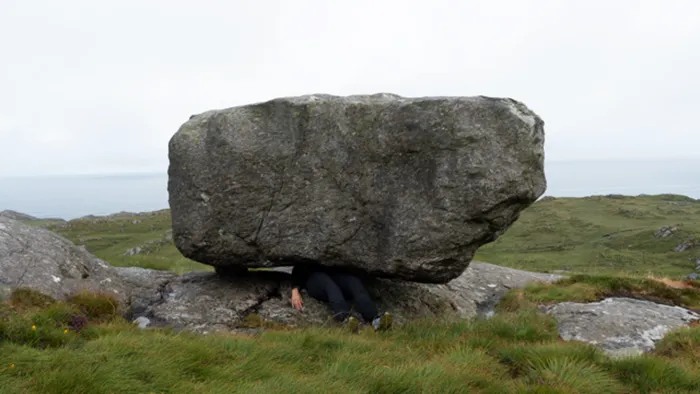 For several years, Ulrika Sparre has been researching places and stones that are considered by local communities to emit energy and to possess intrinsic powers for humanity. With her ongoing project Ear to the Ground the artist seeks to challenge the perception that there is a "nature" that exists apart from us. To face the threat of climate change, we must give voice to non-human elements, such as stones and glaciers. In this way, Sparre wants to investigate how our relationship with what we consider nature can be reevaluated by giving it a possible language. Perhaps by repositioning our perspective we can give rights to our environment. On the Isle of Coll, Sparre wants to study the boulder called The Queen's Stone on the top of Ben Hogh.
Ulrika Sparre and Natalie Taylor listening to the Queen's Stone
SEE ALL THIS (Art Magazine)
Editor: Nicole Ex, Co-Editor & Graphic Designer Sarah Knigge, Communication/Photography Anke Riesenkamp
They have chosen to partner with Embrace: Space at Breachacha Castle in the Isle of Coll because of a sense of 'quintessence,' the fifth element in ancient Greek philosophy. In Latin, quinta essentia, literally the fifth being, is an immaterial element that, according to Aristotle, permeated the whole world. And that essence is tangible on this edge of the earth on a wild shore of the Atlantic Ocean. To succeed in rethinking a social model in which economy and ecology thrive alongside each other, a generous network is essential. And an island has this. It depends on the islanders' solidarity and imagination.
The Cyclic Epic of the Everyday (at the Margins)
Two years ago, See All This published the first volume of our Pretty Brilliant series. Serving as a means to fill the negative space left between the many men in the art canon, the Pretty Brilliant issue was a response to an almost complete absence of womankind from the authoritative books on all matters art history: Janson's History of Art and Gombrich's The Story of Art. Far from complete, our mission continues this year with the second of three volumes in the Pretty Brilliant series which together will form a sister to these titles, cumulatively equalling the latter in thickness.
If art history is a chronicle of events and art made by great men—including war, politics, economics, floodings, fires, and so on—underpinning that chronicle is this other story made by women: it concerns the everyday that is most often dismissed as mundane, not to be noticed. It is her story of pregnancy, of birth giving, of feeding, caring, clothing, protecting, educating, of children, of family, of aging, of wrapping the death, the whole life cycle, and it is overlooked as common place, as humdrum. Yet, it is the matter of art. In A History of Civilizations (1962), Fernand Braudel rejected the traditional event-based narrative as the basis for a history course which only attributed importance to the surviving historical sources from the literate wealthy classes. Instead, he emphasized the crucial significance of the ephemeral lives of people in the margins, from the serfs to the peasants to the urban poor. With his focus on the longue durée, he stated that underneath there is another hidden story—I would like to phrase it as her story—which is the local story, the petty dealings of the everyday, of the women sustaining the world with their daily work.
Women have had to go against the grain to be accepted within the male-dominated world of art, and for many of these women artists a meaningful life of expression has been attributed to their work in the margins, within disciplines that were not considered important, or to a departure from the centers of power. Pretty Brilliant Vol. II will give prominence to these artists. To those who often sought to create alternative ways of living, within stubborn places like islands, deserts, and craggy mountainsides, and with nature's forces to contend with. To trailblazing women who have submitted to the elements: earth, fire, water, wind, and space (considered by the Japanese Buddhist tradition as the fifth). Dividing the second volume into five chapters, each element will hold space for women artists from all over the world and of all time, who have created works within their scope.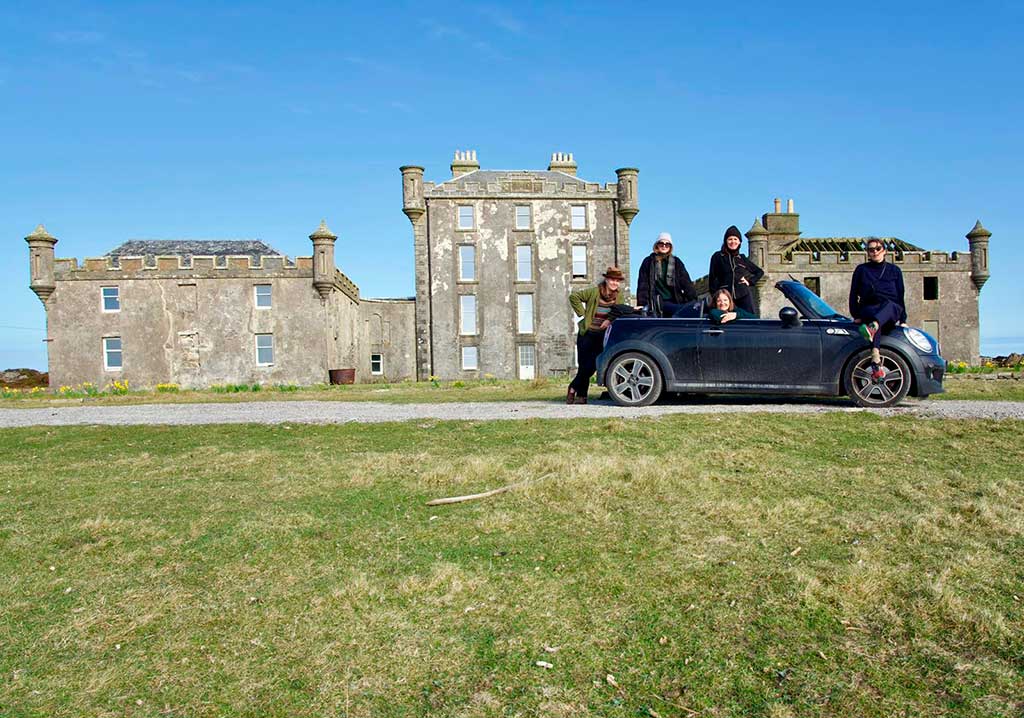 Summer Residencies 2022: COLOUR FIELDS
2nd post-pandemic edition
Following on the publication of Colour Fields, See All This #24, the art magazine will bring magazine members to Breachacha Castle during the month of June. Breachacha in Gaelic means 'Field specked with wildflowers / Colour Field.' (See also Ida Grae with her book Nature's Colours)
With issue #24 in mind, we attend to a new movement that is evolving: Artivism. And Claudy Jongstra is one of the pioneers. Her art is a standard-bearer, to be given a political voice and ensure social cohesion, as it is an alarm bell and a cry for more biodiversity and rewilding.
'Rewilding is a narrative of hope,' says Richard Bunting, because it gives us perspective and purpose. It doesn't just preach doomsday scenarios or a narrative of abstinence and deprivation, but it gives us something in return: the promise of a wilder world, a more exciting life, a better connection with our environment. Rewilding is about strengthening the local connections between nature and community.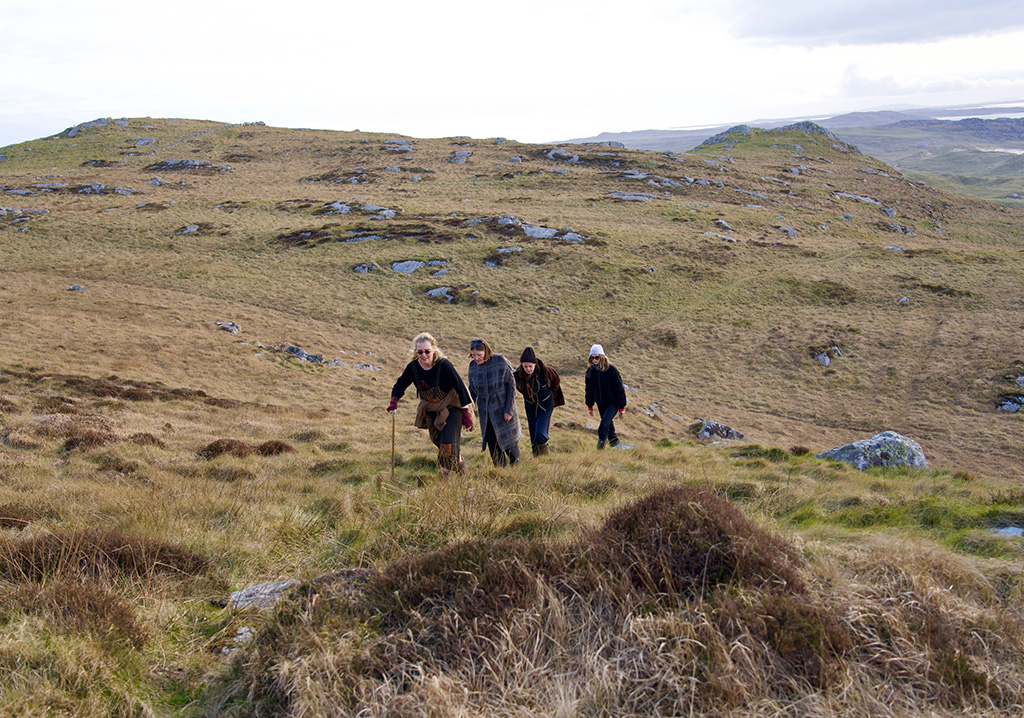 The prize is specifically aimed at young artists and performers between the ages of 18 and 32 in the following categories: Literature, Film, Theater and Dance and Painting, Sculpture and Photography.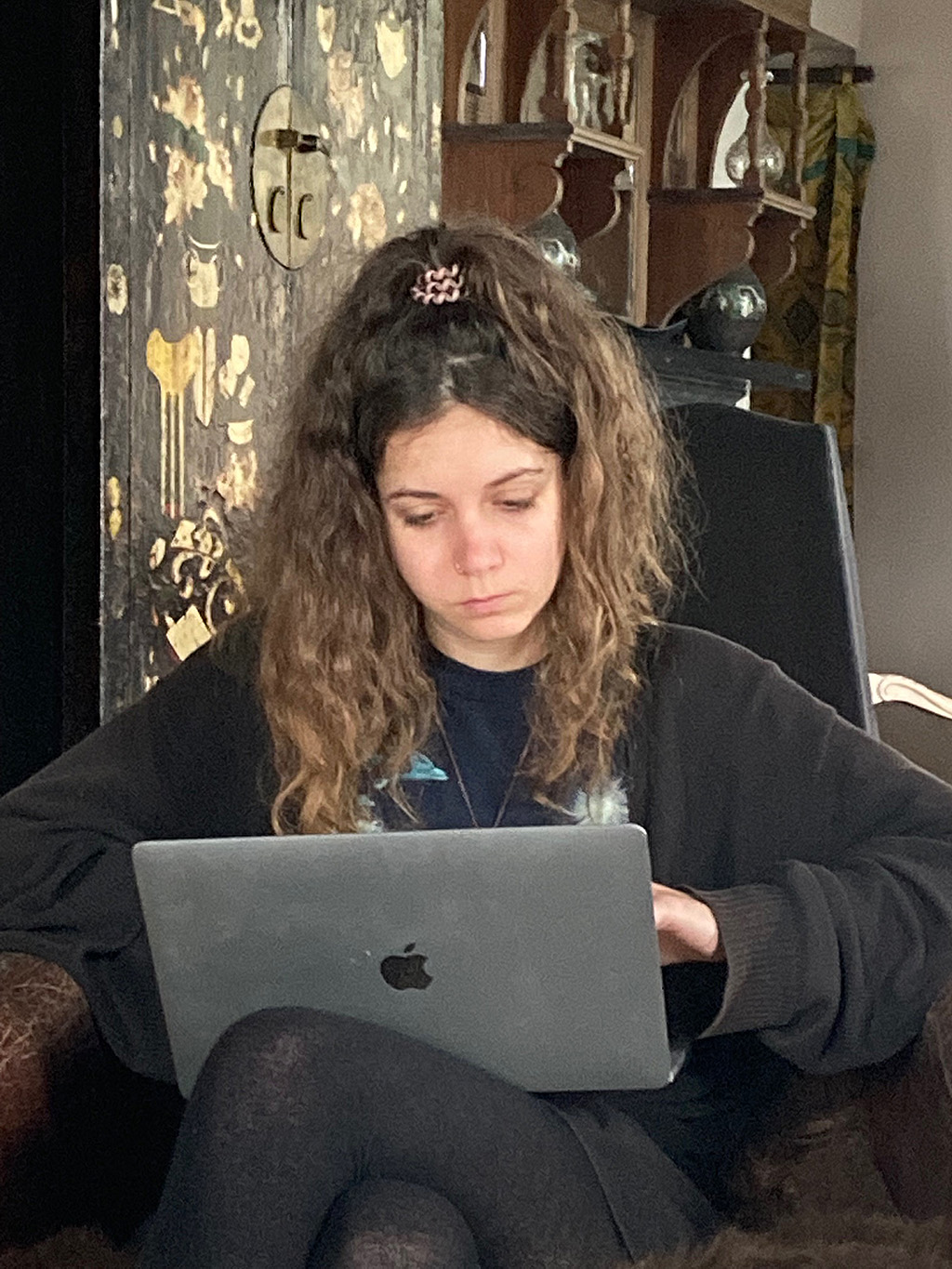 Dominique De Groen (1991) is a writer, visual artist, and founder of Marktcorruptie, a label for DIY publications. Her poetry collections Shop Girl (2017), Sticky Drama (2019), Offerlam (2020) and SLANGEN (2022) were published by het balanseer. Her work was awarded the Frans Vogel Poetry Prize in 2019 and the audience prize of the Fintro Prize for Literature 2021. She has published poetry, fiction and essays in several magazines and online platforms, both in Dutch and in translation. In her experimental writing practice she engages with themes like ecology, (anti-)capitalism, and internet culture.
After publishing four volumes of poetry, Dominique De Groen is currently working on her first novel, Corpus Britney, which is set partly in Scotland, partly in Los Angeles. On her quest to find a missing actress, the paranormally gifted detective Malayney Milkweed roams the depths of the darkweb, travels through time (to the period of the Scottish witch hunts, for instance), and finds herself entangled in conspiracies of shadowy international conglomerates and counterplots by underground resistance movements. The novel is not only an exploration of our mediatised image culture, the shimmering surfaces of audiovisual capitalism, but also of the deep historical currents that have shaped the present and brought us to this point — and, finally, of the possible alternative futures that could still emerge out of this present.
This is an excerpt of the novel Corpus Britney which Dominique De Groen was writing at Breachacha Embrace on the Isle of Coll. It sketches a 17th-century Scotland during the witch hunts in which her character ends up.